Newsletters
Shabbat Shalom - The Weekly News
09/06/2022 03:45:57 PM
| | |
| --- | --- |
| Author | |
| Date Added | |
| Automatically create summary | |
| Summary | |
Dear {{first_name}}

Shabbat Shalom
Candlelighting Times:
Shabbat
Friday, 10, June 2022
Light Candles 4:49 pm
Saturday, 11, June 2022
Havdallah: 5:51 pm
Torah Portion: Naso

Message from The Rabbi
How reliable is it when you give your word? Thinking about oaths and promises in this weeks Parsha-Naso! click here to view my weekly Torah video… CLICK HERE

Netzer Progressive Israeli Shaliach Sefi Shalam to Join Kehilat Nitzan for Shabbat
Mark your calendars for Saturday, June 11 for Shabbat morning. Since April 2019, Sefi has been working as the Melbourne Netzer and Progressive community Shaliach, on behalf of the Jewish Agency and enjoyed speaking on dozens of stages in Israel, Australia and other countries. Sefi has spent his career on two tracks: 1. youth engagement and international relations (including in the US Embassy to Israel); and media/TV production. He admits he is a geek about Israeli politics and history, with a special passion for sports and cooking. Join us for an interesting and informative Shabbat with Sefi. We wish Sefi and his wife, a heartfelt Mazel Tov on the birth of their daughter.
Talmud Talk with Rabbi Yonatan
What is the Talmud and what is its purpose? Why is the Talmud important? What is the difference between Torah and Talmud? Who wrote the Talmud? Ever asked yourself these questions? or others? Beginners and self procalimed experts are all welcome to join Rabbi Yonatan for the new and improved Talmud Talk weekly sessions. Bagels, stimulating conversation included all you need to bring is a willingness to learn and don't be afraid to ask "why?" Talmud Shiurim starts immediately after morning services at 8:30am with bagel breakfast in person at Kehilat Nitzan and on Zoom (Zoom Link )
RSVP not required but are appreciated (want to ensure we have enough bagels) kindly rsvp to: info@kehilatnitzan.org.au
Lehat Noam Kick-Off Event
Led entirely by young people, Kehilat Nitzan's new Lahat Noam Shabbat morning program for children aged 5-9 years of age kicks of on Sunday June 26th at 2pm. A fun filled afternoon with scavenger hunt to welcome your children to Kehilat Nitzan's wonderful world of Lehat Noam – a new program designed to engage our youth as part of our shul's community on Shabbat mornings (1x per month) with bi-monthly activities on Sundays too.
Kick off event with pizza and fun will be at Caulfield Park Playground on Inkerman and Kehilat Nitzan will be back up location in case of inclement weather.

Parents are welcome to stay and watch the fun, a Q & A will be offered at 3:30 pm to get better acquainted with Kehilat Nitzans new youth program "Lehat Noam."

Join us on Sunday, June 26th at 2pm.
Kick Off event is free for members and costs $10 per child for non-members.
Bookings are essential. Register today at Register Now .
Membership Records

Dear Members,
We will be contacting you in the next week or so to confirm your information and ensure our database is up to date. We will tell you what information we currently have, ask you to correct any errors, and add information you would like us to.
We will be checking:
Name (and spellings)
DOB
Occupation
Address
Mobile
Email
Spouse/partner – DOB + occupation
Children – DOB
Anniversaries – wedding, b'nei mitzvah anniversary
Family yahrzeit/s
Kehilat Nitzan Tikkun Olam
Your donations at work:
Eithne Donlon, Social Worker at Jewish Care sent these photos with a note reading: "Please pass on my sincere thanks to the Kehilat Nitzan team and special thanks to you for all your help".
Pam Feldman is KNTO liaison person with Jewish Care and the delivery represents our continuing support for Jewish Care's emergency food pantry for those in our community with food insecurity.
Book Club
2:00 PM on Wednesday 13 July at KN.
The book we will be discussing on that day is:

MORE THAN I LOVE MY LIFE BY BOOKER PRIZE NOMINEE, DAVID GROSSMAN
More Than I Love My Life is the story of three strong women: Vera, age ninety; her daughter, Nina; and her granddaughter, Gili, who at thirty-nine is a filmmaker and a wary consumer of affection. A bitter secret divides each mother and daughter pair, though Gili--abandoned by Nina when she was just three--has always been close to her grandmother. More Than I Love My Life was inspired by the true story of one of David Grossman's longtime confidantes, a woman who, in the early 1950s, was held on the notorious Goli Otok ("the Adriatic Alcatraz"). With flashbacks to the stalwart Vera protecting what was most precious on the wretched rock where she was held, and Grossman's fearless examination of the human heart, this swift novel is a thrilling addition to the oeuvre of one of our greatest living novelists, whose revered moral voice continues to resonate around the world.
Kesher/Bnei Mitzvah Korner
Kesher and Bnei Mitzvah students learned about Tefillin with Rabbi Yonatan and Art Feinman who joined the class to assist Rabbi Yonatan. We look forward to seeing everyone this coming Shabbat morning for Junior Congregation at 10:30 am. Services begin at 9:30 am, please join us then.
​​​​​​​
Junior Congregation
This Shabbat morning, Saturday, June 11th

If you know of a student age 9-12, invite them and their family to check out our Kesher/Bnei Mitzvah program. You'll be glad you did. For more information contact the Kehilat Nitzan at 9500 0906 or info@kehilatnitzan.org.au
Meet The Board
Hello, I am David Sztrajt. I am amember of our Governance Committee, and I also liaise with CSG and ESS on behalf of Kehilat Nitzan to manage our security. Don't forget: See Something. Say Something. I hope you will say hi next time you are at shule.
Office Closure:
Please note: In Honour and observance of The Queen's Birthday, the shul office will be closed Monday, 13th of June. The office will reopen Tuesday at 9 am.


Birthdays of the Week
Damian Jorge Blumenkranc
Maxine Silbert
Alan White
Howard Arber
Benjamin Felstead
Abigail Terry
Ella Gingold
Elizabeth Glickfeld
Jade Rosenberg
Armani Feinman
Judy Feiglin
Arthur Feinman
Leonard Glickfeld
Carin Goldwaser
Joel Pinczewski

Anniversaries of the Week
Aviram & Katie Furstenberg
Emma & Matthew Regan
Mark & Viv Wollan
Yahrzeits this coming week
May the memories of their loved ones be a blessing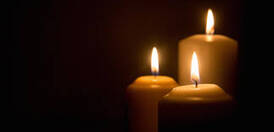 Chana Achiezer - Zyngier, Mother of David Zyngier
Mally Aufrichtig, Mother of Brenda Marcus
Alfons Israel Avraham, Father of Dalia Furstenberg
Tillie Entel, Grandmother of Alexandra Silver
Eva Faine, Mother of Miriam Faine, Husband of Solly Faine
Gaspar Leopold Gyarmati, Grandfather of David Burstyner and Joel Burstyner, Father of Judith Burstyner
Dora Hiller, Mother of Deborah Hiller, Janet Hiller and Judi Glick, Grandmother of Ellie Gurgiel and Rafi Schmideg
Mary (Mania) Majtlis, Mother of Caroline Bryce
Gutta Zaks, Mother of Jack Zaks

*correction:
In last weeks newsletter, Dora Hiller's yahrzeit was listed incorrectly.
We apologize to the Hiller Family.
​​​​​​​May your Mother's memory be a blessing to all who mourn her.
KN Tree of Life
Honour your family or life event at Shule by sponsoring a leaf on the Tree of Life OR sponsor our stunning, remaining stained glass panel.

Please contact the office on 9500 0906 or email us and Bev or Sue will call you back to discuss the details
Kehilat Nitzan
P.O. Box 2313
Caulfield Junction, VIC 3161
Tue, 4 October 2022 9 Tishrei 5783