Newsletters
Shabbat Shalom - The Weekly News
23/06/2022 01:40:13 PM
| | |
| --- | --- |
| Author | |
| Date Added | |
| Automatically create summary | |
| Summary | |
Candlelighting Times:
Shabbat
Friday, June 24
Light Candles 4:51pm
Saturday, June 25
Havdalah: 5:52 pm
Torah Portion: Shlach
Message from The Rabbi
Parshat Shlach: Why did the entire generation that came out of Egypt wander the desert for 40 years and perish before entering the Promised Land? Is that what God brought them out for? And though the People had lost faith upon hearing the scout's report regarding the land and its inhabitants, why was there no opportunity for teshuva (repentance) even when they had a change of heart? CLICK HERE for my weekly video. Shabbat Shalom!
Lehat Noam Kick-Off Event
PLEASE NOTE: event location is moved to Kehilat Nitzan
Led entirely by young people, Kehilat Nitzan's new Lahat Noam Shabbat morning program for children aged 5-9 years of age kicks of on Sunday June 26th at 2pm. A fun filled afternoon with scavenger hunt to welcome your children to Kehilat Nitzan's wonderful world of Lehat Noam – a new program designed to engage our youth as part of our shul's community on Shabbat mornings (1x per month) with bi-monthly activities on Sundays too.
Parents are welcome to stay and watch the fun, a Q & A will be offered at 3:30 pm to get better acquainted with Kehilat Nitzan's new youth program "Lehat Noam."
Join us on Sunday, June 26th at 2pm.
Kick Off event is free for members and costs $10 per child for non-members.
Bookings are essential. Register today at Register Now .
Sichot B'Salon -
Living Room Conversations
Invite your friends and the Rabbi over to your home and have any conversation you would like. No subject is taboo - let's talk about any subject you want! We are once again offering a series of up, close and personal Jewish conversations in the comfort of your home. Call the office or email info@kehilatnitzan.org.au for more details and to reserve a day and time!
Talmud Talk with Rabbi Yonatan
What is the Talmud and what is its purpose? Why is the Talmud important? What is the difference between Torah and Talmud? Who wrote the Talmud? Ever asked yourself these questions? or others? Beginners and self procalimed experts are all welcome to join Rabbi Yonatan for the new and improved Talmud Talk weekly sessions. Bagels, stimulating conversation included all you need to bring is a willingness to learn and don't be afraid to ask "why?" Talmud Shiurim starts immediately after morning services at 8:30am with bagel breakfast in person at Kehilat Nitzan and on Zoom (Zoom Link)
RSVP not required but are appreciated (want to ensure we have enough bagels) kindly rsvp to: info@kehilatnitzan.org.au
Kesher/Bnei Mitzvah Korner
Thank you to the Kesher/Bnei Mitzvah students and their families for their incredible generosity for the Tikkun Olam Toiletry Drive. Check out the amazing amount of toiletries they brought in! During class, the kids learned about how the rabbis of the Mishnah thought about certain ages and stages of life. An interesting conversation ensued with the kids thinking about about their own lives and expectaions for different ages. Happy Winter Break! We will back in session Wednesday, July 13th.
​​​​​​​
Junior Congregation
Save the Date Saturday, July 23rd

If you know of a student age 9-12, invite them and their family to check out our Kesher/Bnei Mitzvah program. You'll be glad you did. For more information contact the Kehilat Nitzan at 9500 0906 or info@kehilatnitzan.org.au
Meet The Board
Say hello to David Krug! David and his family have been members of Kehliat Nitzan for five years, and he joined the Board in 2021.
In his professional life, David has an extensive background in executive management positions in live entertainment, ticketing, arts, hospitality, media and sports. Krug Consulting, providing services including strategy, business development, client and relationship management, negotiation and business intelligence to many diverse clients.
David, with the rest of the family, since day one has loved the warmth and spirit of the Kehilat Nitzan community.
Undeniably, David's proudest achievements (with more than a little assistance from his wife, Simmy) are his "Mini-Me's", Toby and Ruby – who incidentally are now both taller than their parents.
Book Club
2:00 PM on Wednesday 13 July at KN.
The book we will be discussing on that day is:

MORE THAN I LOVE MY LIFE BY BOOKER PRIZE NOMINEE, DAVID GROSSMAN
More Than I Love My Life is the story of three strong women: Vera, age ninety; her daughter, Nina; and her granddaughter, Gili, who at thirty-nine is a filmmaker and a wary consumer of affection. A bitter secret divides each mother and daughter pair, though Gili--abandoned by Nina when she was just three--has always been close to her grandmother. More Than I Love My Life was inspired by the true story of one of David Grossman's longtime confidantes, a woman who, in the early 1950s, was held on the notorious Goli Otok ("the Adriatic Alcatraz"). With flashbacks to the stalwart Vera protecting what was most precious on the wretched rock where she was held, and Grossman's fearless examination of the human heart, this swift novel is a thrilling addition to the oeuvre of one of our greatest living novelists, whose revered moral voice continues to resonate around the world.
Birthdays of the Week
Daniel Bass
Daniel Mac
Alon Lior
Nicky Mac
Sonia Palmer
Benjamin Wollan
Dalia Furstenberg
Rodney Nissen
Gabrielle Wolkenberg
Dora Kingsley
Charna/Shana Green
Elaine Davidoff
Judith Perl
Abigail Klein
Simon Gurevich
Ariella Walsh-Davidoff
Yahrzeits this coming week
May the memories of their loved ones be a blessing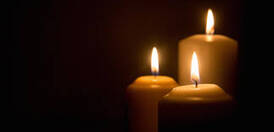 Rushka, Mother of Miriam Sztrajt, Grandmother of David Sztrajt
Anita Adelaide Boymal, Mother of David Boymal
Darren Jonathan Golabek, Son of Danny/David Golabek
Geoffrey Goldberg, Grandfather of Anthony Goldberg
Alexander Kolt, Son of Judy Kolt
Marglit Lemin, Mother of Pinchas Lemin
Sonia Leski, Mother of Charles Leski
Sonia Meltzer, Mother of Brian Meltzer
Norman Morton,Father of Claire Morton
Gedalle Perl, Father of Moshe Perl, Father of Ruth Rosen
Graham Leon Roseby,Father of Rob Roseby, Husband of Alison Roseby
Penina Ita Zylberman, Sister of Feygl Zylberman
Mira Zylberman, Grandmother of Feygl Zylberman
KN Tree of Life
Honour your family or life event at Shule by sponsoring a leaf on the Tree of Life OR sponsor our stunning, remaining stained glass panel.

Please contact the office on 9500 0906 or email us and Bev or Sue will call you back to discuss the details
Kehilat Nitzan
P.O. Box 2313
Caulfield Junction, VIC 3161
Tue, 4 October 2022 9 Tishrei 5783