Newsletters
Shabbat Shalom - The Weekly News
30/06/2022 11:30:44 AM
| | |
| --- | --- |
| Author | |
| Date Added | |
| Automatically create summary | |
| Summary | |
Dear {{first_name}}

Shabbat Shalom
Candlelighting Times:
Shabbat
Friday, June 24
Light Candles 4:53pm
Saturday, June 25
Havdalah: 5:55 pm
Torah Portion: Korach
Message from The Rabbi
Parshat Korach: Parshat Korach: Why do you raise yourself above the congregation of Israel? These are the words of Korach who leads the rebellion against Moses and Aaron. Does Moses set himself up above the People ? Watch my weekly video for an insight on this question VIEW HERE for my weekly video. Shabbat Shalom!
Bat Mitzvah of the Week
Ella Gingold
Mazel Tov Ella Gingold on becoming a Bat Mitzvah this Shabbat morning.
As you're called to the Torah
may this special day be remembered with pride and joy.
Mazel Tov to her parents, Sarah Rogers & Michael Gingold and brother, Samuel Gingold.
Lahat Noam Kick Off Event a Success
With an Engaging and Energetic kickoff event, Lahat Noam is off to a great start and we at Kehilat Nitzan are very excited to see this program grow and thrive as a new part of our community. We found many kids running and jumping around with joy as they took part in our age inclusive activities. Accompanying Lahat Noam's goal of a fun yet educational Massorti approach the kids participated in learning about the Shabbat table through 'Pass the Parcel' and 'Pin the religious item on the shabbat table', a spin-off 'pin the tail on the donkey'. The event was topped off with a delicious pizza party for both the parents and kids as the parents learned about our fun lineup of shabbat activities that we have planned for future events. Ultimately, we had a great response to the Kickoff Event and we hope to see many more of your kids come along and be able to have a Jewish learning experience from a young age.
Lahat Noam will be a Shabbat program run for ages 5-9 and will aim to bring fun and inclusive activities and games whilst maintaining a jewish educational standpoint so your kids can broaden their jewish knowledge as they grow up. Some of our future activities are going to include arts and crafts, cupcake design, decorating the shule, parashah play where the kids get to dress up as different characters and act out the week's parashah and hopefully a pajama party sleepover. We are also looking at doing some off-shule activities such as bounce and inflatable world. Overall, we see this as an opportunity for parents or grandparents to bring along their kids to shul, and be able to take part in congregations whilst their kids get an informal jewish education through fun and engaging activities.

If you know of a student age 5-9, invite them and their family to check out our Lahat Noam program. You'll be glad you did. For more information contact the Kehilat Nitzan at 9500 0906 or info@kehilatnitzan.org.au
Masorti Rabbis Strongly Condemn U.S. Supreme Court Decision to Overturn Abortion Rights
Rabbi Yonatan and Kehilat Nitzan join with Masorti Australasia and the Masorti International movement in the condemnation of the recent decision by the U.S. Supreme Court to overturn Roe v. Wade. We join in solidarity with the women of the United States during this dark hour. To Read the Full Statement CLICK HERE .

Sichot B'Salon -
Living Room Conversations
Invite your friends and the Rabbi over to your home and have any conversation you would like. No subject is taboo - let's talk about any subject you want! We are once again offering a series of up, close and personal Jewish conversations in the comfort of your home. Call the office or email info@kehilatnitzan.org.au for more details and to reserve a day and time!
Talmud Talk with Rabbi Yonatan
What is the Talmud and what is its purpose? Why is the Talmud important? What is the difference between Torah and Talmud? Who wrote the Talmud? Ever asked yourself these questions? or others? Beginners and self procalimed experts are all welcome to join Rabbi Yonatan for the new and improved Talmud Talk weekly sessions. Bagels, stimulating conversation included all you need to bring is a willingness to learn and don't be afraid to ask "why?" Talmud Shiurim starts immediately after morning services at 8:30am with bagel breakfast in person at Kehilat Nitzan and on Zoom (Zoom Link) ​​​​​​​
RSVP not required but are appreciated (want to ensure we have enough bagels) kindly rsvp to: info@kehilatnitzan.org.au
Kesher/Bnei Mitzvah Korner
​​​​​​​Happy Winter Break! We will back in session Wednesday, July 13th.
​​​​​​​
Junior Congregation
Save the Date Saturday, July 23rd

If you know of a student age 9-12, invite them and their family to check out our Kesher/Bnei Mitzvah program. You'll be glad you did. For more information contact the Kehilat Nitzan at 9500 0906 or info@kehilatnitzan.org.au
Book Club
2:00 PM on Wednesday 13 July at KN.
The book we will be discussing on that day is:

MORE THAN I LOVE MY LIFE BY BOOKER PRIZE NOMINEE, DAVID GROSSMAN
More Than I Love My Life is the story of three strong women: Vera, age ninety; her daughter, Nina; and her granddaughter, Gili, who at thirty-nine is a filmmaker and a wary consumer of affection. A bitter secret divides each mother and daughter pair, though Gili--abandoned by Nina when she was just three--has always been close to her grandmother. More Than I Love My Life was inspired by the true story of one of David Grossman's longtime confidantes, a woman who, in the early 1950s, was held on the notorious Goli Otok ("the Adriatic Alcatraz"). With flashbacks to the stalwart Vera protecting what was most precious on the wretched rock where she was held, and Grossman's fearless examination of the human heart, this swift novel is a thrilling addition to the oeuvre of one of our greatest living novelists, whose revered moral voice continues to resonate around the world.
Birthdays of the Week
Karen Shnider
David Sztrajt
Ezra Lipski
Isabella Rubin
Mark Pastor
Jacob Wood
Sid Davidoff
Carmela Levy-Stokes
Christa Felstead

Anniversary of the Week
Zvi & Marian Civins
Yahrzeits this coming week
May the memories of their loved ones be a blessing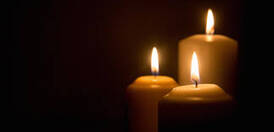 Shalom Achiezer, Step-Father of David Zyngier
Judith Esther Cebon, Daughter of Naomi Tippett
Yisrael Hall, Father of Fred Hall
Anton Jeremy Hermann, Husband of Karen Hermann, Father of Tahlia Hermann, Father of Joel Hermann, Father of Ella Hermann
Trudy Gertrude Ann Miller, Mother of Irving Miller
Michael Myer Saffer, Father of Harold Saffer
Zoltan Schmideg, Father of Peter Schmideg
Rachel Smith, Mother of Lisa Smith
Charles Teschner, Father of Susan Teschner
Rose Weiss, Mother of Norman Weiss
Maurice Wollan, Father of Mark Wollan
Sala Zawadzki, Mother of Esther Goldberg
Chava Zimmermann, Mother of Ann Cebon-Glass
Mejer Zyngier, Father of David Zyngier
KN Tree of Life
Honour your family or life event at Shule by sponsoring a leaf on the Tree of Life OR sponsor our stunning, remaining stained glass panel.

Please contact the office on 9500 0906 or email us and Bev or Sue will call you back to discuss the details
Kehilat Nitzan
P.O. Box 2313
Caulfield Junction, VIC 3161
Tue, 4 October 2022 9 Tishrei 5783