Welcome to Kehilat Nitzan, the first and only Masorti (Conservative) congregation in Melbourne, Australia!
Kehilat Nitzan offers Shabbat and chagim (festival) services and shiurim (study sessions) in a warm and friendly environment. Our song-filled Friday night services begin at 6 pm. Our traditional, egalitarian, and inclusive Shabbat morning services begin at 9:30 a.m. We also hold a weekly morning minyan on Wednesdays at 7 a.m. We welcome and include everyone irrespective of age, gender, or sexual orientation.
Check out the latest issue of our biannual newsletter (Rosh Hashana 2019).

You can also access Rabbi Sadoff's Rosh Hashana and Yom Kippur sermons on the From the Rabbi page.
Contact Us
Phone: (03) 9500 0906
Email: Office - info@kehilatnitzan.org.au
Rabbi - rabbi@kehilatnitzan.org.au
Facebook: kehilatnitzan
Find Us
36-40 Hawthorn Road, Caulfield North
Acknowledgment
of Country
Kehilat Nitzan acknowledges the Bunurong people of the Kulin Nation
as the Traditional Owners of the land
on which our synagogue is situated
Affiliations
Kehilat Nitzan appreciates and acknowledges the support of the
World Zionist Organisation and
Masorti Olami.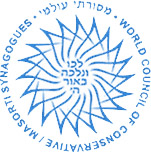 Mon, 17 February 2020
22 Shevat 5780
Mon, 17 February 2020 22 Shevat 5780