About Our Shul
Kehilat Nitzan is Melbourne's first Conservative (Masorti) congregation, formed in March 1999. We provide traditional egalitarian services in which both women and men can participate equally. We offer a warm and friendly environment in which you can celebrate our Jewish way of life. Kehilat Nitzan is more than just a synagogue - it is a community.
We offer Shabbat and chagim (festival) services as well as shiurim (study sessions). Everyone is welcome to join in our services and activities. Services are held every Shabbat evening and morning.
Find Us
36-40 Hawthorn Road, Caulfield North
Acknowledgment
of Country
Kehilat Nitzan acknowledges the Bunurong people of the Kulin Nation
as the Traditional Owners of the land
on which our synagogue is situated
Affiliations
Kehilat Nitzan appreciates and acknowledges the support of the
World Zionist Organisation and
Masorti Olami.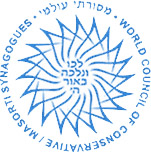 Tue, 26 May 2020
3 Sivan 5780
Tue, 26 May 2020 3 Sivan 5780